GBPA Executive
Leadership
The success of our people depends on the skill, experience, and vision of our leaders.
Sarah St. George
Vice Chairman
Sarah St. George, daughter of the late Edward St. George, now sits as Vice Chairman of The Grand Bahama Port Authority and Group of Companies. Like her father, the former Chairman of the GBPA Group, she is well studied in the areas of Business, Finance and Law and brings with her a wealth of knowledge and experience, as well as a passion for the future development and growth of the City of Freeport and Grand Bahama Island.
Miss St. George, a Business Executive has capitalized on opportunities throughout her professional career, to work with some of the most prestigious financial firms in the United States.
Miss St. George attended the College of Law in London and in 1976 was called to the London Bar Association as a Barrister in the United Kingdom, and member of the Inner Temple, Inns of Court. Thereafter, Sarah went on to work as a trainee analyst and OTC stock trader with Allen & Co. of New York from 1977 - 1978.
Expanding her professional expertise to the fields of International Markets and Financial Services; following her tenure with Allen & Co. Sarah moved on to work as a Commodities and Futures Trader at Drexel, Burnham & Lambert on Wall Street in New York, from 1978 - 1980. While there, she passed the New York State exam achieving status as a New York State Certified Trader.
In 1980, she joined JP Morgan New York. Miss St. George began her tenure with the financial conglomerate as a member of its lending team responsible for large multinational corporations such as General Foods and General Motors. Following a transfer to JP Morgan's International Financial Management Division, she was promoted to Vice President in 1984.
Amongst her many interests, Miss St. George was a Contributing Editor to Tatler Magazine in London, and Executive Producer of a BBC documentary on The Kingdom of Bhutan. Despite a grave boat accident in 1973, she remains a keen swimmer and has taken part in the BASRA 2km swim and Conchman Triathlon. In her leisure time, Miss St. George enjoys music, art, interior design and travelling. She plays the piano and has produced popular classical concerts in Europe and one in Grand Bahama. She is fluent in French and also enjoys dogs and horses, a love nurtured by her grandfather William Hill and her late father Edward St George.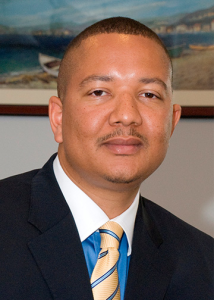 Ian B.A. Rolle
President
Ian Rolle was appointed President of The Grand Bahama Port Authority Group of Companies in February 2009.
Born on Grand Bahama Island, Ian Rolle considers himself an entrepreneur at heart, with a passion for the sustained economic advancement of Freeport. He expressed, "I am excited about the opportunity to assist in directing the Group to ensure that we better the lives of the Grand Bahama community, and by extension, the entire Bahamas, through the use of the unique features offered by Grand Bahama Island".
In 1995 while employed with Ernst & Young as a Senior/Knowledge Steward, Mr. Rolle passed the Georgia State Board of Accountancy exam and became a Certified Public Accountant. He also held the post of Finance Manager at Hutchison Lucaya Limited where he was responsible for the management of a 450 million dollar budget for the redevelopment of Lucaya Hotel property.
Mr. Rolle joined the The Grand Bahama Port Authority as Group Financial Analyst in 2000 and also served as Group Financial Controller. He most recently served as Chief Financial Officer of the Group.
Mr. Rolle is a member of The Bahamas Institute of Chartered Accountants, The Georgia Society of CPA's, and the American Institute of Certified Public Accountants. Mr. Rolle is married to Barbara Rolle and they are the proud parents of Nia, Ian, Dana and Jada.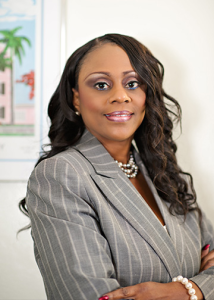 Deann Seymour
Chief Financial Officer
Deann Seymour, Financial Executive at The Grand Bahama Port Authority, Limited (GBPA) believes in the pursuit of excellence in all she puts her hands to. With more than 20 years of experience in the Accounting and Financial Management field, she now sits as the newly appointed Chief Financial Officer for the GBPA Group of Companies.
Mrs. Seymour began her professional career as an Auditor with KPMG in the early 90's. By 2004, she had served as Group Financial Controller for the Port Lucaya Resort & Yacht Club, and the Grand Bahama Shipyard; with responsibility for financial reporting and internal controls. In mid-2004, Mrs. Seymour joined the Hutchison Group of Companies as Senior Financial Analyst and was later promoted to the position of Financial Accounting Manager for the Group.
In August 2007, Mrs. Seymour joined the GBPA as Group Financial Analyst. Within less than a year she was promoted to Group Financial Controller, and served in this capacity until her recent appointment to Chief Financial Officer by the GBPA Group Board of Directors.
Mrs. Seymour holds a Bachelor of Science Degree in Accounting from Fort Lauderdale College; she is also is a Certified Public Accountant. Mrs. Seymour is a member of AICPA (American Institute of Certified Public Accountants), and a licenced member of Bahamas Institute of Chartered Accountants (BICA). Currently, she sits as Chairman of the GBPA Licensing Committee, a member of GBPA's Scholarship and Donations Committee, as well as a Director of the Grand Bahama Memorial Park.
Although born in the country's capital, Mrs. Seymour was raised on Grand Bahama Island where she resides with her family. She is married to Assistant Commissioner of Police, Emrick Seymour and together they have two children,Emrinique and Emrick Seymour.
Henry St George
Vice President
Henry St. George was appointed as Vice President of The Grand Bahama Port Authority, Limited (GBPA), in March 2012 and is responsible for the group's Business Development functions. Mr. St. George also serves on the Board of Directors for GBPA, Port Group Limited (PGL) and The Grand Bahama Development Company (GBDEVCO).
Upon receiving his BA from the University on Newcastle, Mr. St George embarked on a career in finance starting in New York at investment bank Brown Brothers Harriman, the largest privately owned bank in the world. There he developed a passion for deal structuring, which saw him progress to Hawkpoint Partners in the UK, a leading independent corporate finance advisory firm. At Hawkpoint he advised on numerous M&A transactions in a diverse array of sectors, including: Oil & Gas, Real Estate, Financial Services and Technology. He is also a Certified Corporate Financier by the Chartered Institute for Securities and Investment (CISI).
Having spent the early part of his life in Freeport and having lived there intermittently throughout his formative years, Grand Bahama is in his DNA. Mr. St. George is an active supporter of the Grand Bahama Children's Home and the Beacon School. Mr. St George is also an investor in the technology sector and a racehorse owner.